Plumbing, Heating,
Cooling & Utilities
Residential & Commercial Service and new Construction Plumbing, Heating, Cooling, And Utilities Contractor, We are a 3rd generation Family Owned company.
Since 1958 T&D Plumbing Co., has been providing affordable and dependable plumbing & heating services throughout the state of Maryland.
We specialize in plumbing, heating, air conditioning, utilities and gas piping re-connections. We utilize the best brands, new technology and equipment to better serve our customers.
2133 Monumental Rd, Halethorpe, MD 21227
Hours: Open 8AM ⋅ Closes 4 PM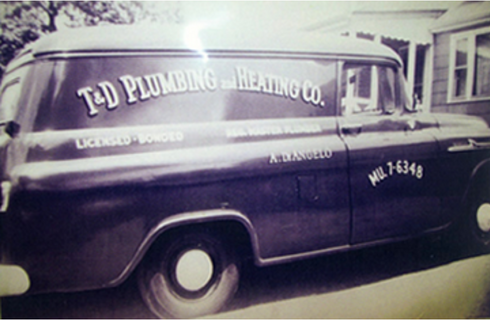 Plumbing
Drain Cleaning
Sewer Cameras
Hydro Jetting
Water Replacement
Sewer Replacement
Electronic Leak Detection
Gas Line Repair
Gas Line Replacement
Bathroom Remodeling
HVAC
Repairs
Replacement
Boilers
Furnaces
Condensers
Heat Pumps
Factory Sanyo Installers
Ventilation
Filtration
Utilities
Development
Residential
Commercial
Certified & Bonded
Telesis Baltimore Corporation
"Telesis appreciates how responsive T&D Plumbing is to the many types of projects we have in Baltimore. Whether it is a last minute request, or providing service throughout an 18 month long construction period, we can rely on T&D."
– Jenny Hope, Associate Project Manager
Scott Sommerer
T&D Plumbing was contracted by NPL to disconnect, move and reconnect several A/C compressors as they did their work on the BGE gas line upgrade in my neighborhood in Bolton Hill. It was…
read more...
T&D Plumbing was contracted by NPL to disconnect, move and reconnect several A/C compressors as they did their work on the BGE gas line upgrade in my neighborhood in Bolton Hill. It was our great, good fortune to have had Jeff Martin and Ralph Collins to do the work for each of us. They both have a great sense of humor and respect each other beyond compare. They told each of us clearly and simply what they needed to do, what they saw in the condition of the units and assured us that the compressors would be fully functioning after their work is done. It is my experience that you get the bare minimum in such sub-contracted work. NOT SO WITH THESE TWO GENTLEMEN! They cleared leaves in my unit and washed it down and checked with gauges pressure and coolant levels and topped off. It is the nature of our yards that there is not much room to move. These guys found nothing to be a problem and offered their insight and suggestions as to what to expect from my older compressor and how to lengthen it's life. I will definitely keep these guys and T&D Plumbing in my contacts!
Useful Plumbing & HVAC Tips
Avoid water from freezing and a bursted the pipe
Turn the indoor valve off, and leave the outside one open to allow the water can drip out. Usually located in the basement.
Turn off your outside water for hoses and irrigation, and cover
Cold weather can arrive suddenly. Make sure everyone in your home knows how to shut off outside lines. Have insulated covers on hand. Stores are often sold out when cold weather hits
Check the Air Filters
You should check and replace your air filters every 2-3 months, that means you should always have a few spare air filters on hand. Changing the air filters in your home will help ensure the unit is running properly. It also helps improve your home's air quality. Air filters that aren't frequently changed force your system to work harder and circulate common household allergens such as pollen, debris, and pet hair.
Check the Outside Unit
It's likely that when you think about checking your HVAC system you overlook the outside unit. However, this part of your system is extremely important as it is the central point for airflow throughout your home. Obviously because the unit is located outside debris such as leaves and branches can get stuck within the unit causing it to suffocate. Removing the debris from in and around the unit will help to keep the system running more efficiently
Plumbing Tips for Drips
A steady drip can waste $20 or more in water in a short time. Multiply that figure by the number of faucet drips in your home. Check to make sure there are no dips. If you find any, get it repaired immediately.
Our professional service team are available when you need them.
Our professional service team are available whenever you need them.